As i

was on the ridge this week, praying in my little chapel in the woods, the Holy Spirit began to teach me about the prayer that He answers. For the last two weeks i have been reading about George Müller and his powerful accounts of God answering over 50,000 documented prayers. My spirit was stirred and I thought to myself, "If God is no respecter of persons, then why not me? What would it take for me to see God move in power and might in my lifetime and actually see tangible, recordable answers to the prayers that i prayed, by the thousands?! What effect might i, a middle school history teacher and part time preacher from Podunk, Tennessee have on the planet!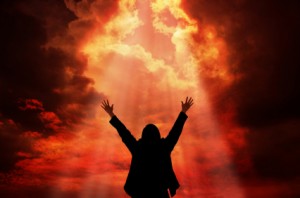 As the fire in my belly began to stir, i began to catch God's vision for all of His children to become history makers through persistent prayer.
He took me to Luke 18, you know, the parable of the persistent widow and the unjust judge. Now, i have read this parable many times before but as i read the words "He spoke a parable to them, that men always ought to pray and not lose heart.", something clicked! "Duh! Hello!", i thought to myself. Unanswered prayer causes most of us to loose heart! But why?
Jesus said that we always ought to pray...and not lose heart. So what does it mean to "not loose heart"?
Us Americans, throw up a prayer and if we don't see immediate, microwave results, we think to ourselves, "It must not be God's will." We ask God for someone to be healed, or for a financial breakthrough, or a change in our situation, and after a time or two in earnest prayer we quit, we lose heart and wonder why God doesn't hear or us, or even more self deceptively, retreat into a false "sovereignty of God" claim that relieves our conscience of duty in prayer.
It means not to stop praying for the thing that you are praying for until you get an answer! The old-time Pentecostals used to call it "Praying Through". They prayed on through to the other side! They took hold of God, like Jacob and would not let go until they got their answer! Man! We need a revival of fortitude and good old fashion persistence in prayer.
George M

ü

ller 1805-1898
When the people of God have a Godly desire that lines up with the Holy Scripture and the heart of God, we can have confidence that our Father, who loves us, longs to answer our prayers for blessings, power, and breakthrough. When the apostle Paul wrote under the inspiration of the Holy Spirit to pray without ceasing, he was not hanging the proverbial carrot out before us in order to trick us into some laborious effort that produced no results. God literally wants his Kingdom to come and His will to be done on earth, but it must come through us! John Wesley, the great Methodist reformer said that "God does nothing except in answer to believing prayer."
It is interesting to note, that Wesley was greatly influenced by the Moravians who prayed in community, 24-7 for over 100 years! The motto for the Moravian prayer movement came from Leviticus 6:12, "The fire on the altar shall never go out." How quickly we allow the fire on the altar to go out, and often just before the Lord is about to send an answer! Next time we meet, we will discuss how persistent prayer is linked to the faith required to see our prayers answered in power.
In the Lion, In the Lamb,
mark whitten